by Thomas Bwire
Meet 18 year old George Okoth and 19 year old Barrack Omondi.  Both of them are undertaking the Kenya Certificate of Secondary School Education (KCSE) examinations that kicked off smoothly on Monday morning 12 October.  I meet them at the Uweza Center in one of the empty rooms reading through some of their notes keenly as part of preparing for the ongoing exams.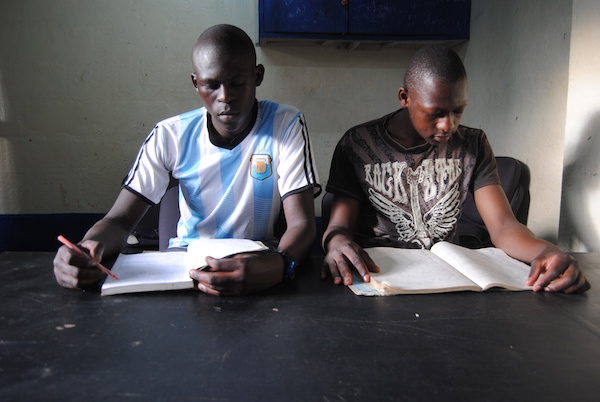 So far they have undertaken four papers that include Biology and English paper one and two respectively. Their zeal to excel is written across their faces; at some point they compare notes from each other just to ensure that they are on the same page to better equip oneself.
These two boys are among several candidates from Uweza Foundation registered for this year's national exams that determine if high school students are able to continue on to post-secondary education. George and Barrack are among 525,802 candidates nationally.
The two boys each has a story to tell. George is the second-born child in a family of four children. He currently resides in Gatwekera village in Kibera with his mother and sadly he lost his father in November last year. His journey with Uweza started in 2013 while he was in Form Two at Olympic High School, a local high school that serves Kibera population. His parents could not afford school fees and this in most cases locked him out of class sessions.
Just like George, Barrack too was also in the same predicament, he spent most of the time out of the classroom setup at Olympic High School. The first-born in a family of five and also living in Gatwekera, he was rescued by Uweza in the year 2013. He used to come to Uweza center and spend some time reading on his own during school hours after being sent home from school for lack of fees.  Luckily for him, Uweza Managing Director Jen Sapitro scouted him and after sharing his story, he was later absorbed into the sponsorship program.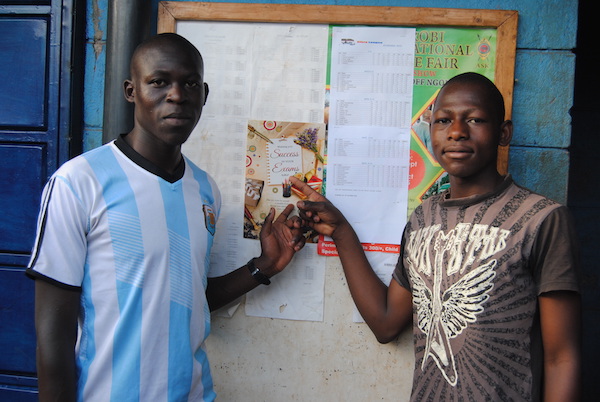 Both George and Barrack are beneficiaries of Uweza sponsorship program and true to their word, they have all worked hard to reach Form Four.  According to George, he feels great and determined to make it in life. "I aspire to become a doctor or engineer so as to help uplift my community just the way I was uplifted to continue with education," notes George. While for Barrack his vision is to undertake computer engineering course. "If I attain good grades in my national exams, then venturing into my heart's desire will be achieved," says Barrack.
Last month, KNEC announced that about 1.4 million candidates were to sit for this year's national examinations KCPE and KCSE, with the exam dates for KSCE being set at between 12th October and 5th November
During the launch of this year's national examinations, Joseph Kivilu KNEC CEO stated that the exams would go on as scheduled, despite the teachers' strike, which is had paralyzed learning in public schools for five weeks. Kivilu also said there were fake chemistry papers in circulation with the number 1246 at the bottom and warned both candidates and parents against buying the fake papers. "Fraudsters are busy at work to exploit the candidates. Candidates need to be warned to avoid the temptations and wait for our exams as scheduled," he said.
On behalf of the whole Uweza family, we do wish all our 2015 candidates best of luck in their exams.