Recently, 50 students from our after-school tutoring program spent an educational Saturday at the Nairobi National Museum.  When they returned from the field trip, they wrote compositions and drew pictures about what they saw, experienced, and learned.  Below are some of their drawing and stories about the trip: 

"It was on a Friday when we discussed about the trip for Uweza.  Our teachers were delighted to tell us that the trip would be free.  The trip was to be on Saturday at 8.00 am and the pupils broke into a dance upon hearing that.  When the time of calling names of the pupils who will go the trip, I was happy as a lark to hear my name being called.

When Saturday arrived, we departed for the museum.  We paid the entrance and entered the building.  At first, we saw many kinds of birds which have been dried up.  I learned that a dove can lay sixteen to eighteen eggs.  Secondly, we saw different animals such as elephants, buffaloes, zebras, giraffes and lions. The elephant I saw was very huge and I was very happy because I had never ever seen an elephant since I was born."
- Duncan Jacktone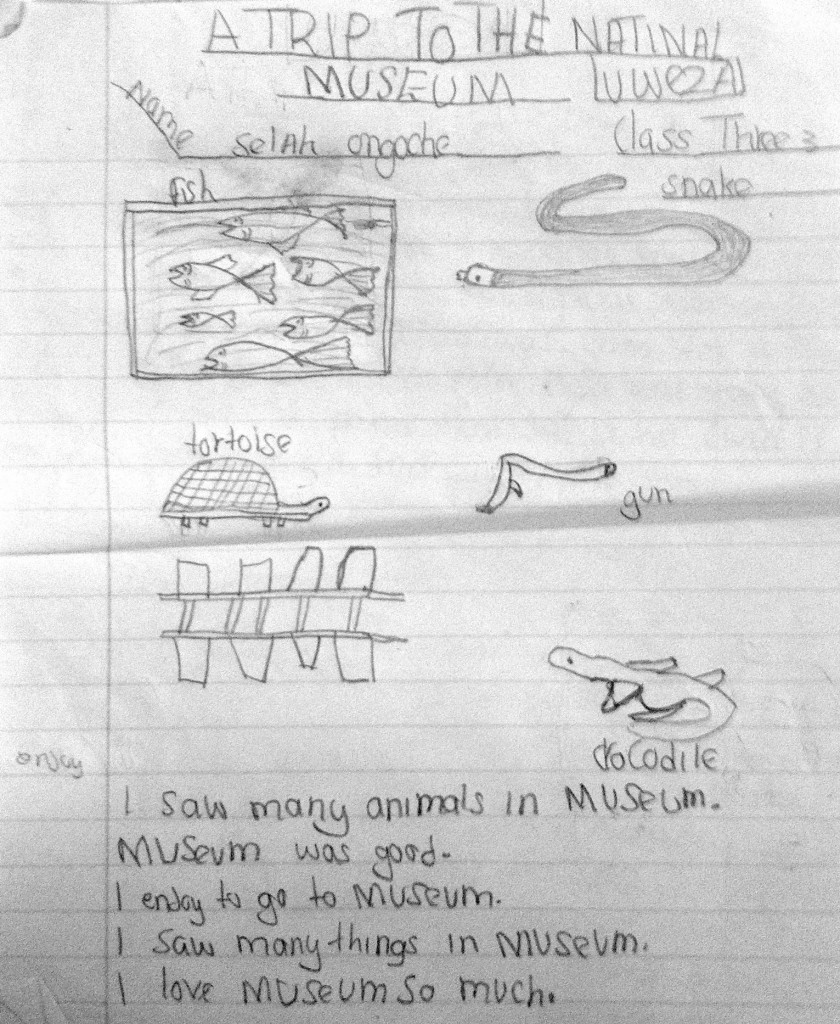 "That Saturday morning, I went to my bedroom and put on my beautiful clothes.  In a twinkle of an eye, my mother came with a strong breakfast which was fried eggs, sausage, jam, and some slices of bread.  Then I woke my sister and we went to tuition to wait for others to come.
On our way to the museum, we saw so many things like Kenyatta International Conference Center and the Parliament of Kenya.  When we arrived, we started seeing the pots of the past and we saw the people of the past and how they started being like the people of today.  Then, we took a powerful lunch and went to the snake park.  We saw many snakes, some were long and some were short.  We went home and the trip was good."
- Simion Okibiego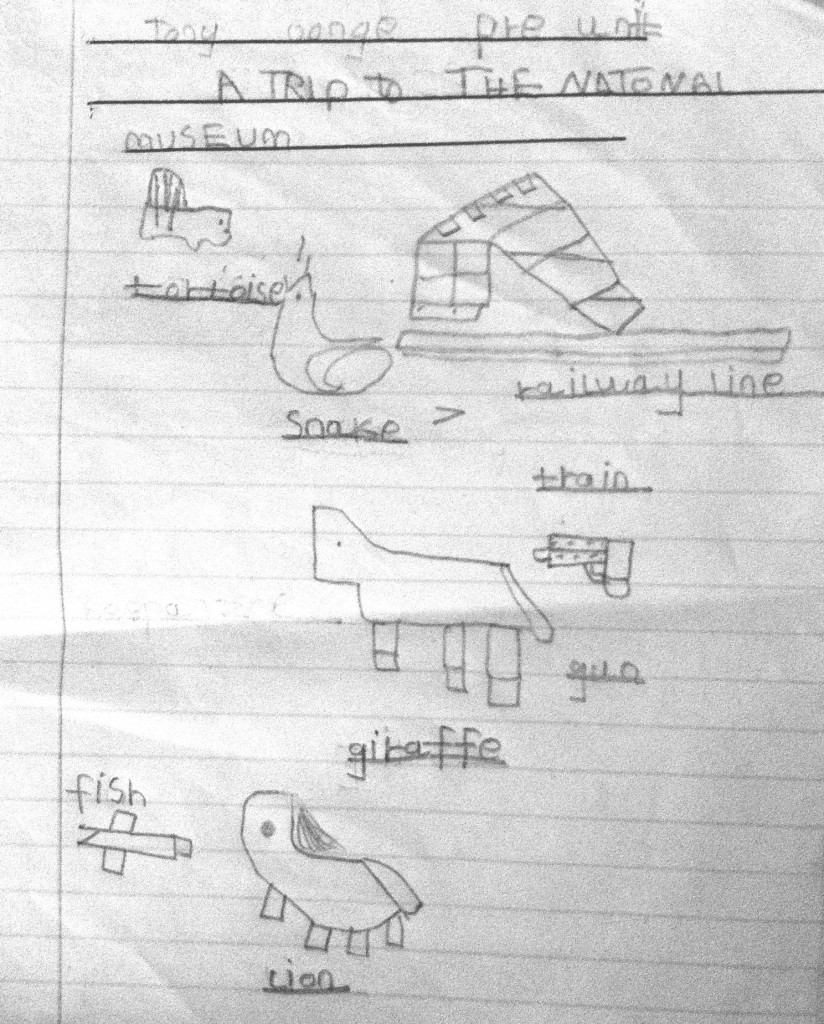 "When Saturday reached, I woke up early in the morning and went to the bathroom to take my shower.  The shower made me as cool as  cucumber.  Then I went to my bedroom and wore my nice dress with pink dots.  I heard my friends calling my name so I took my breakfast and we walked along the road as we met with our friends and classmates.

When we reached the museum, we were told to remove all the things that we were chewing.  We saw monkeys, leopard, and a zebra.  We were told that we were going to see a live fish and a snake.  We were afraid to see live snake and that as my first day to ever see a snake."
- Beryl Achieng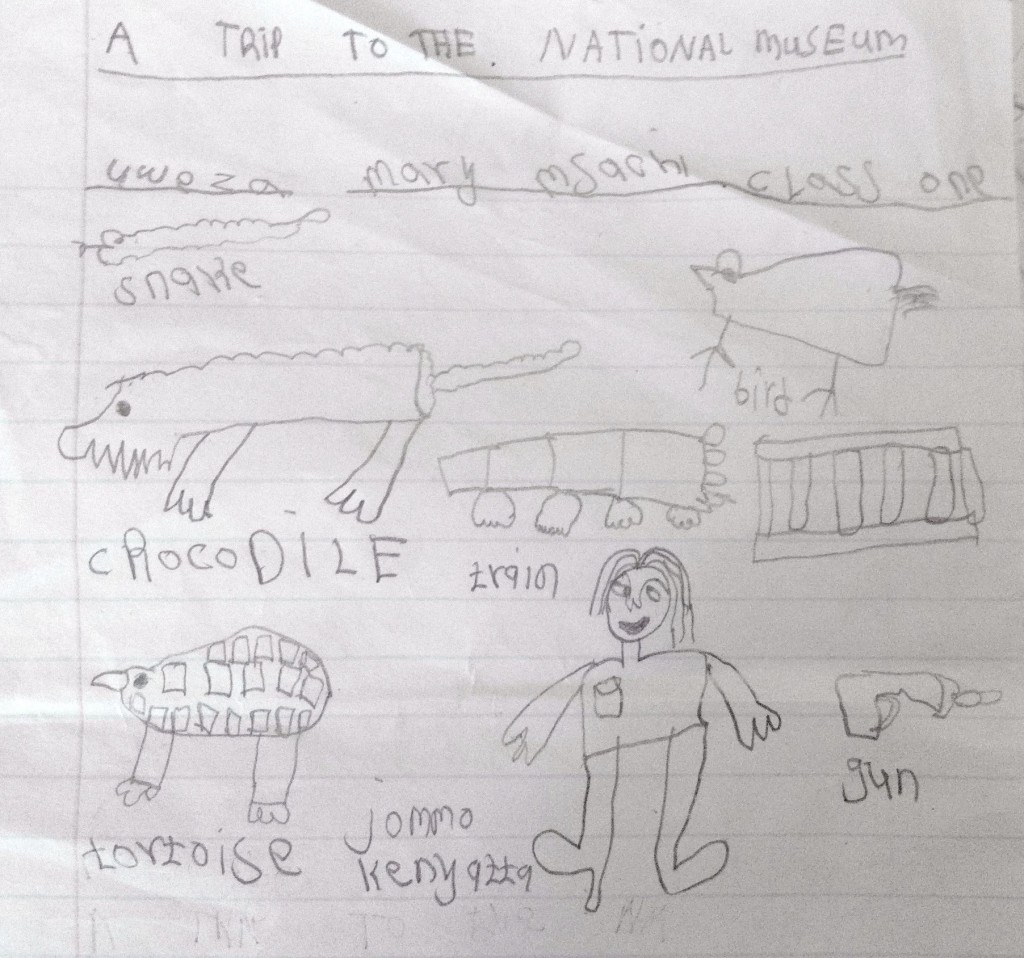 "It was on a Friday when I left school and went to Uweza.  I found everyone was happy and excited.  All of us kept so quiet that you could hear the earth rotating.  Teacher Harriet stood up and then she told us, "tomorrow, we would like to take you to the Nairobi National Museum." That night, I kept turning in my bed.  Finally, the day reached.  I took a cold shower, which left me as fresh as a daisy.

I knew it was a place of discovery.  On the first floor, we could see different animals such as lion, elephant, cheetahs, hyenas, and many others. I learned the difference between a leopard and a cheetah.  On the second floor, we learned how our ancestors lived many years ago.  We went and ate our snacks for about thirty minutes then we played a game of hide and seek.  Before we went home, we went to a restaurant, where we had a delicious lunch.  We came back full of joy. I will never forget that day until the Sahara desert becomes wet."
- Michelle Akinyi
Related posts: