by Barack Omondi and George Okoth
My name is George Okoth. I sat for my Kenya Certificate for Secondary Education (KCSE) in 2015 at Olympic High School in Kibera. I am currently 18 years old and a resident of Kibera. Kibera is an area that consists of a high population of people, hence an increase in local amenities such as good housing, better access roads, among others.
I live in a single-parent family of four siblings and my mum is the sole bread winner of our family. Her name is Anjeline and she sells maize for our daily bread. This year is turning to be different for me after learning I scored a B- grade in my KCSE national exams.  This was after the official announcement of the national exams tallies of all schools in Kenya on 3rd March 2015. I am happy to have made my mom proud of me and everyone at Uweza who came knocking in time of need by paying my school fees that enabled me finish my high school education.
All I can say is to thank God for enabling me to attain a good grade that will help my dreams come true. Currently I am engaged in doing manuals jobs, selling lotions and assisting my mum in selling boiled maize for our survival.
I have a passion in teaching science and mathematics.  I do this sometimes in the evening, but not on daily basis, so one can engage me to conduct remedial classes for their child. As for the other young aspiring teens out there, my key message is that it doesn't matter the challenges you experience,  you can make it if you believe your dream are valid and pursue them and trust always in God to give you strength to chase your dream. I know I will go to University and I will be able to be an engineer and inspiring teacher. To conclude, if you believe in yourself you will be successful in life as long as you avoid drugs abuse, alcoholism, any kind of vices and you be focused, industrious and smart.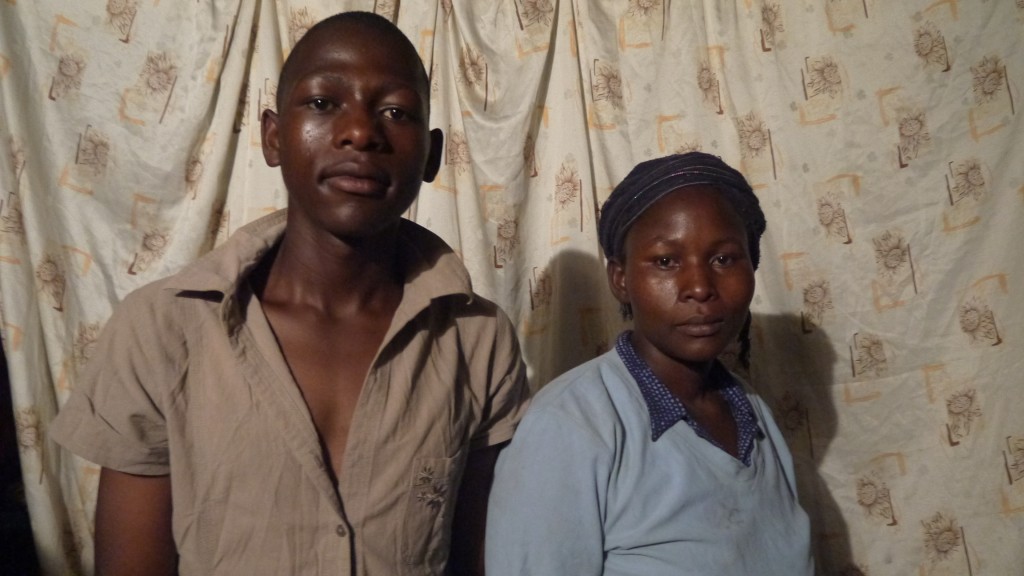 George and his mother at their home in Kibera
……………………………………………………………………………………………………………………………………………………………………..
My name is Barack Omondi Odhiambo. I am 20 years old. I sat for my KCSE exams at Olympic High School where I served as a student leader and held the post of school President in the year 2014 – 2015. After my exams, I enrolled in a computer packages course to empower me more digitally in this current state of the revolving world. 
It feels nice and happy to have made it through this computer packages course. I am not so green now with computers after completion last month and thank Uweza Foundation for sponsoring the course and giving me another opportunity, besides having paid my high school fees.
Currently, I am doing community tasks to sustain our family. Great and successful people have come out of Kibera. From Kibera, I have been able to get the grade of B- that will enable me get to university. My family, relatives, friends and Uweza family are proud of it. This grade will enable me achieve my skills and my profession. My profession of choice is to be an electrical engineer and a computer expert. I am the first-born child in a family of five children.  My mom is our only bread winner and works hard to ensure we have shelter and food all day.
My message to the youth is to not them lose hope in life, for no one knows where his or her destiny lies, nobody knows tomorrow. As is said in the famous Kenyan book The River and the Source: "Yesterday is not today and today is not tomorrow, every day rises fresh from the hands of Were."