Our "Speak it Out" program brings together the adolescents ages 14 and up from all of our programs every month to discuss issues that affect their daily lives. Guest speakers have facilitated discussions about topics including choosing a career, maintaining peace in the community, and healing from trauma.
Last Monday 29th April, 66 Kibera youth, both boys and girls, gathered at Gifted Hands School in Kibera for this month's Speak it Out. The topic of the day was relationships and reproductive health and the guest speakers were Constance Okoth and John Kamwanza, proprietor and nurse of St. Mary's clinic, which is located across the street from the Uweza center.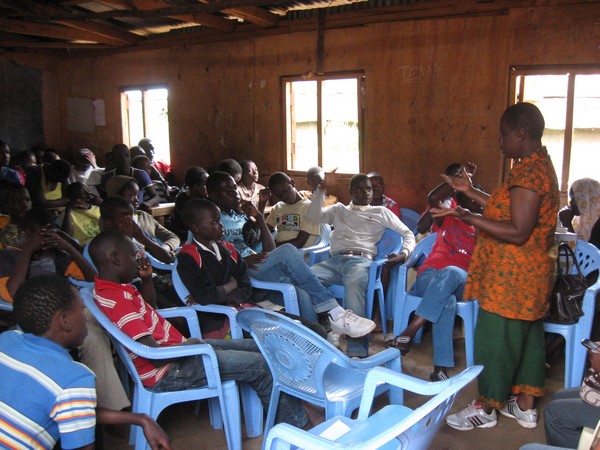 Although sexual and reproductive health is taught in schools, the curriculum largely focuses on encouraging abstinence as the only option and students may not feel comfortable asking questions. At the same time, a survey of Kibera adolsecents carried out by Population Council found that among unmarried adolescents ages 10 to 19, 31 percent of boys and 24 percent of girls were sexually active. HIV/AIDS, teenage pregnancy, and sexual violence are realities that Kibera youth must deal with on a daily basis. Uweza felt that providing youth with information about sex and relationships and directly addressing their quesitons and concerns would enable them to make informed decisions when it comes to their own sexual health.

The first topics covered were basic life skills that included critical thinking skills, social skills, and emotional and self management skills. Participating youth were asked to describe challenges that they face as they mature and develop. Participants mentioned low self-esteem, being old enough to make bad decisions, peer pressure, parents that were too busy to focus on their children, and poverty as challenges that youth in Kibera face.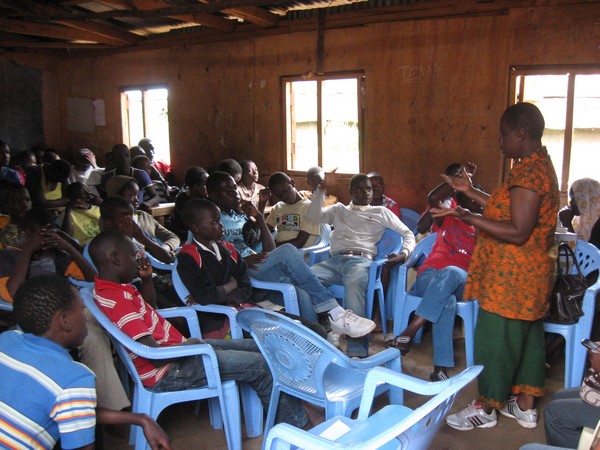 The discussion then moved into relationships and reproductive health. Constance discussed the male and female reproductive anatomy so that participants were able to fully understand their bodies, how they work, and that they are in control. The speakers also covered the symptoms and transmission of STDs and described how a pregnancy is conceived. Participants were encouraged, if sexually active, to use condoms. A large portion of the session was dedicated to answering youth's questions. Openness was encouraged and no questions or topics were off-limits. Because time was limited, future sessions will provide more comprehensive contraception education and youth were encouraged to visit St. Mary's clinic to learn more about contraceptive options, if needed.

The effect of poverty on youth's sexuality came up several times during the discussion. Many acknowledged that girls and women in Kibera are sometimes pressured to have sex in order to meet their and their family's financial needs. An example given by one of the participating girls was:

"In some cases, you will realize that it is the girls who have taken up the burden of providing for their families upkeep. This in most cases is prompted by the father, who is believed to be the sole bread winner, running away from his responsibilities. In the process of the mother trying to provide for her children, she might get infected with HIV virus and in the long run is bed-ridden. The girl will therefore be forced to engage in sex-for-money."

Recognizing that this is a complex topic that will need continuous follow-up as well as small group sessions to fully meet the need for information on reproductive health for the youth participating in our programs, future sessions are being planned. Participating youth completed an evaluation as well as a survey about their current sexual activity and knowledge of family planning and we will use these as a guide to inform future sessions. Overall, the response of participating youth was very positive and almost everyone reported learning something useful they did not know before.