It was all smiles from Caro Foundation on Sunday 10th January after they bagged two awards during the fourth soccer edition of Kibra League awards, held at Toi Primary school. Caro Foundation managed to emerge winners in the Under-17 Boys category with a score sheet of 47 points out of the 18 matches played.  They also won the Boys Under-13 category, attaining 48 points from 22 matches played in the league calendar. The joyful mood spread along the streets of Kibera as they took their celebrations back home after the awards ceremony.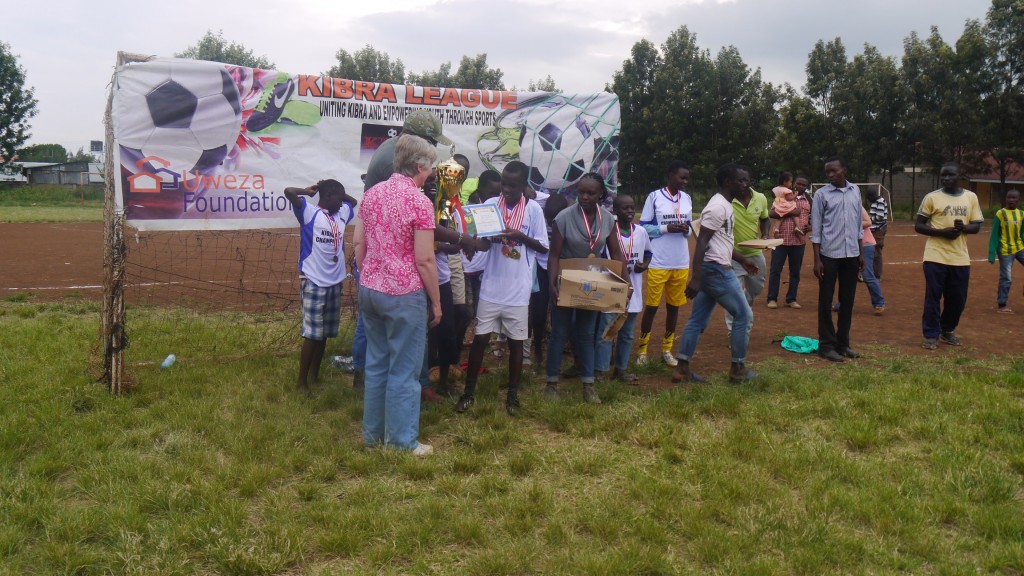 Other winning teams included GYFF Boys Under-8, Corinthians Boys Under-11, Christ Ambassadors Boys Under-15 and Red Stars Girls Under-16. All winners each received trophies and medals as part of their motivation and team soccer jerseys.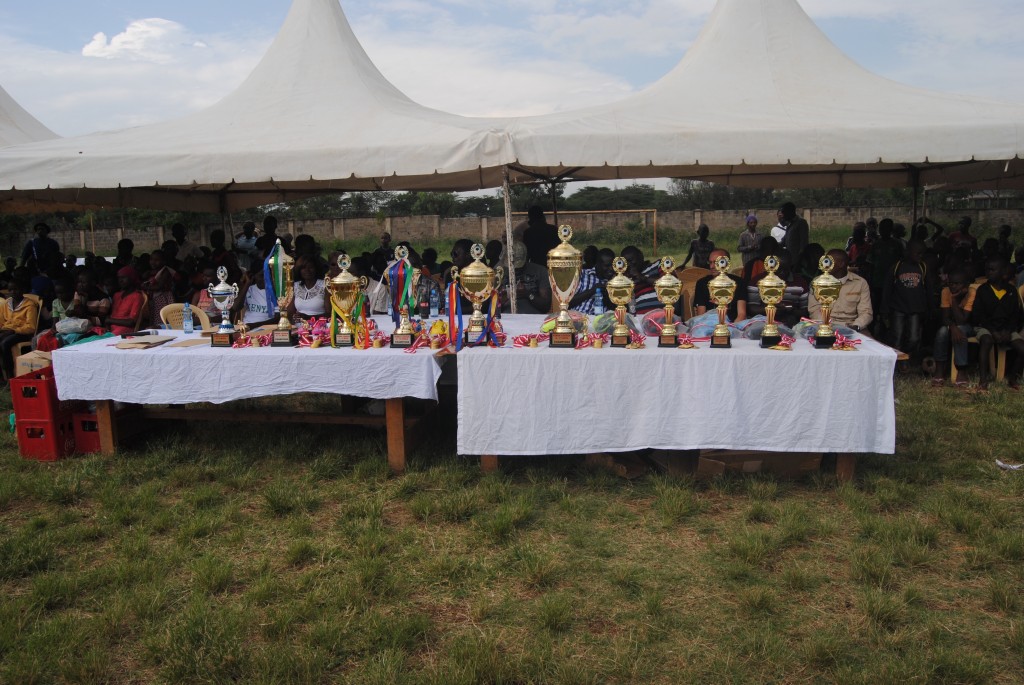 During the awards ceremony, the Kibra League Chairman Mr. Charles Kaindi acknowledged the need to promote soccer among Kibra youngsters as young categories are always left out in the Kenyan soccer scene with key energy directed towards senior soccer players. "It is important to also engage the youths fully as they are a vulnerable group in need of productive activities and opportunities to develop their talents from an early age," noted Kaindi. The league is run and managed by Uweza Foundation and is the only youth league in the area.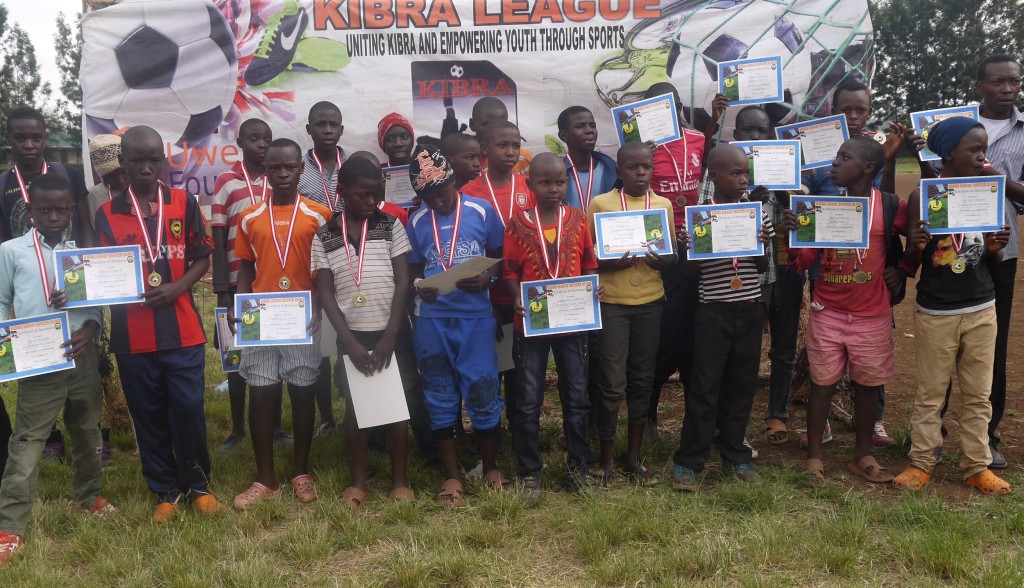 The journey towards this colorful event started in the month of March 2015 and ran to December where more than 1,000 players from 45 teams engaged in battles to show their  strengths. According to Dennis Odhiambo, one of the league coordinators, this time round, consideration was also put across the board to have three other participating teams from outside Kibra.  Teams from Kawangware and Westlands had an opportunity to participate in the league without any discrimination.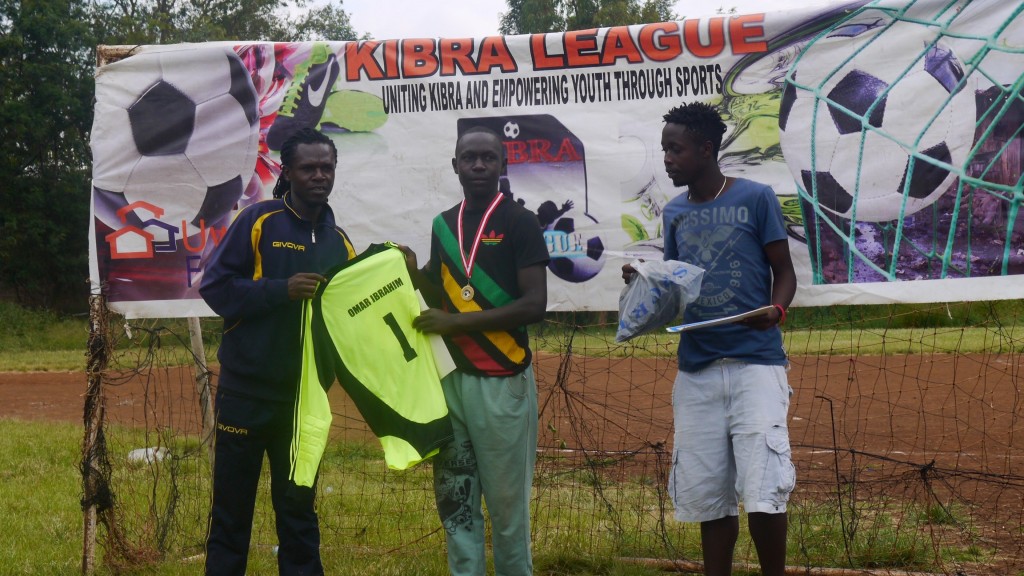 Categories for the ten-month league attracted different age groups of participants as follows: Under 8 boys, Under 11 boys, Under 13 boys, Under 15 boys, Under 16 girls and lastly Under-17 boys.  A tournament was also held at the endo  All teams then embark on attaining the top slot that is awarded by the end of the day.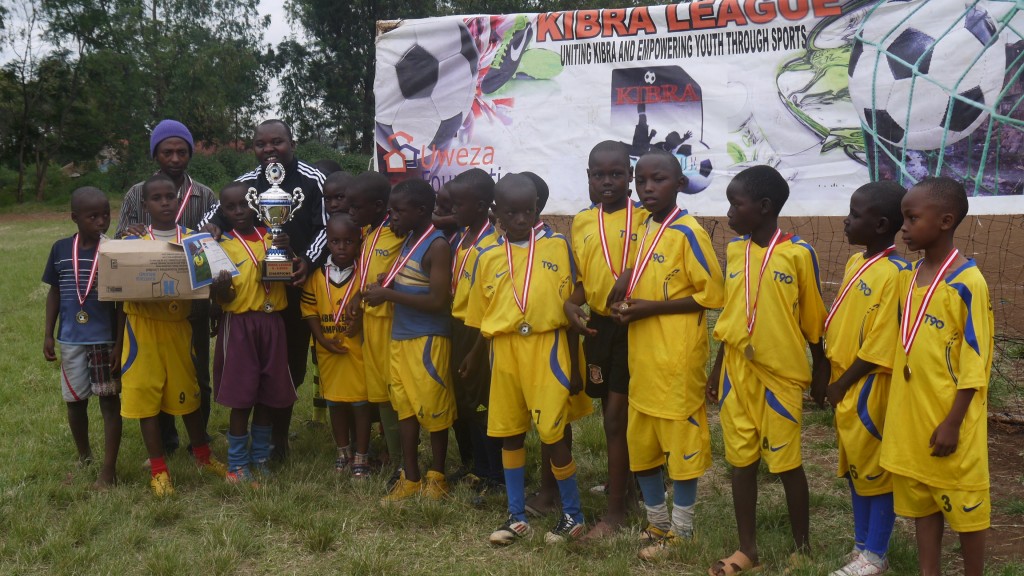 The day did also acknowledge the efforts of best coaches of the year 2015 as follows:
Boys/Girls Under-8: Dennis Odhiambo (Uweza Queens)
Boys Under-11: Derrick Hamu (RYSA)
Boys Under-13:  Florence Adhiambo (Ligi Ndogo),
Boys Under-15: Said Mohamed (Uweza)
Boys Under-17: Vincent Madede (Youth for Christ)
Girls Under-16: Bernard Chweya (Red Stars)
Most Disciplined:  Mark Tizodi (Kibera Saints)
Awards also went to the top scorers 2015 as follows:
Boys/Girls Under-8: Joel Kyalo (Uweza)
Boys Under-11: Emmanuel Ashono (Kibera Juniors)
Boys Under-13: Clifton Shukrani (Ligi Ndogo)
Boys Under-15: Kevin Sanya (Christ ambassadors)
Boys Under-17:  Brian Otara( Uweza)
Girls Under-16: Pauline Okoth (Red Stars)
Last slot of winners went to the best players 2015 as follows:
Boys/Girls Under-8:  Moses Aminga (Slum Soka)
Boys Under-11: Aziz Okoth (Kibera Kids)
Boys Under-13: Charles Wanjohi (More Fire)
Boys Under-15: Ali Abubakar (Matrix)
Boys Under-17:  Philip Mayaka (Youth For Christ)
Girls Under-16:  Matilda Muhonja (Uweza)