by Thomas Bwire
"I am happy that sanitation has greatly improved over the last few years compared to 30 years ago when I first moved into Kibra Constituency from Jericho," are the happy sentiments of Roseline Amondi, a mother of four children living in Gatwekera village. Kibra slum was previously portrayed negatively as a result of the so-called "flying toilets." For many years, locals were used to "flying toilet culture" where the call of nature was mostly done using black polythene bags disposed  on other people's roof tops, along the street alleys and in drainage trenches.
However today's script has taken a different turn as the slum has experienced a major sanitation overhaul. With the growing demand of sanitation and other crucial services in this informal settlement, a number of Non Governmental Organizations (NGO's) have specifically been working to improve sanitation levels among Kibra residents. Lack of sufficient toilets facilities is said to be a common problem in many slums across the country, but as the world celebrates the World Toilet Day on Thursday 19th November 2015, Kibra's residents have something to smile about.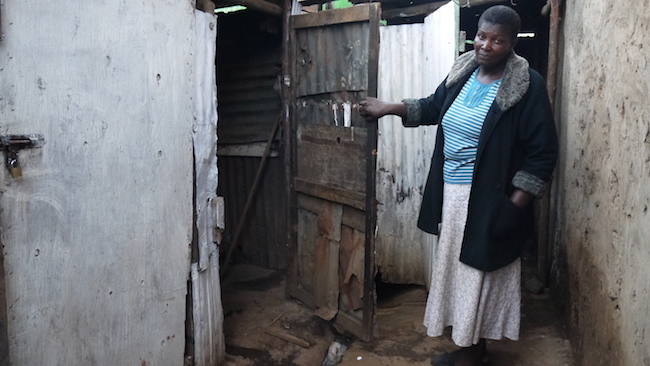 Roseline Amondi at her household's pit latrine
Roseline Amondi told us how much life has changed in this slum.  When she first joined her husband in Kibera thirty years ago, they could only afford to rent a single room since the husband had no job to sustain the family. They lived among other tenants and lacked toilet facilities. "I remember that whenever one wanted to go for a nature call, we all excused the person by getting out of the house for them to relieve themselves in black polythene bags. Same also applied to bathroom services, women and girls showered in the houses during the day while men had to wait and shower at night in most cases just outside our door steps though lights had to be switched off ,"  notes Amondi.
Umande Trust is a non –governmental organization working on sanitation in urban settlements throughout Nairobi that include Kibra, Korogocho, Mathare , Mukuru and Kibagare.  When their projects were first being initiated, they established groups with an aim to put up the first bio- center in Kibra. Tosha 1 was established in 2007.  According to their website, the bio-centers "serve as multi-purpose service points, designed to improve access to decent and affordable sanitation, convert human waste into clean energy (biogas) and fertilizer for urban greening, and provide income generation and access to information to community-based enterprises."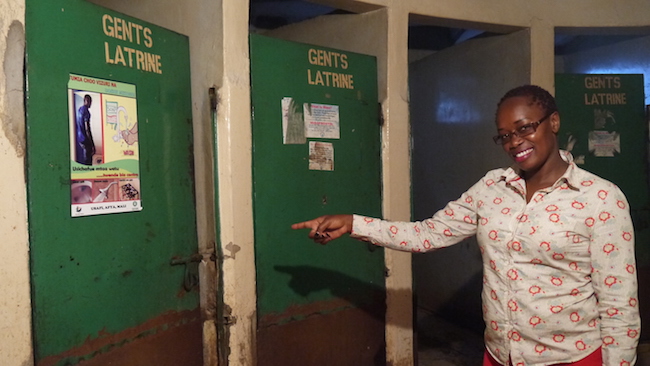 Melvin Moraa at one of Umande Trust's bio-centers
"At that time flying toilets was a norm and most of the bags had been thrown on rusty iron roofs and when rain came they could be swept to the ground and people's homesteads thus causing communicable diseases such as cholera, typhoid and people did not understand at that time why deaths cases were reported," says Melvin Moraa, a Project Officer at Umande Trust.  In addition, Umande Trust has over the years  also carried on with the mantle of conducting community forums on hygiene promotion.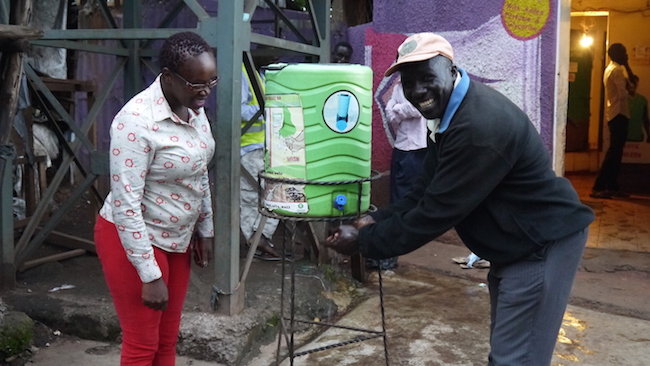 Umande Trust hand-washing station
"I do appreciate the services of Umande Trust whom has greatly improved sanitation standards for us locals over the years. I also own a "Jitegemee toilet" which we use for short nature call at night since going out of the house at night is not always safe for women and girls,"are Mama Roseline Amondi sentiments.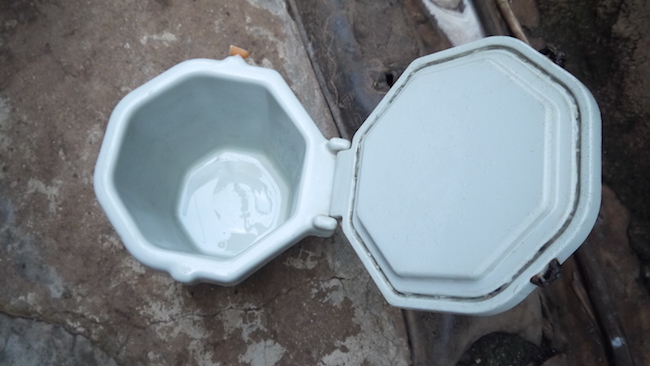 A "jitegemee" (Kiswahili for "to help oneself") portable toilet
According to data from WASH-United, globally 4 out of 10 people lack access to something as basic as a clean toilet. Diseases such as diarrhea caused by dirty water, poor sanitation and bad hygiene is reported to kill more children than malaria, measleas and HIV/AIDS combined.
World Toilet Day is a day to take action. It is a day to raise awareness about all people who do not have access to a toilet – despite the human right to water and sanitation. It is a day to do something about it. This year, World Toilet Day is focusing on the link between sanitation and nutrition drawing the world's attention to the importance of toilets in supporting better nutrition and improved health. Lack of access to clean drinking water and sanitation, along with the absence of good hygiene practices, are among the underlying causes of poor nutrition.