by Mercy Alomba

It is the wish and will of every parent to see their children excel in life through good and quality education. But this has not always been a reality as some parents can barely afford a meal for the family, let alone paying their children's school fees. Uweza tries to ensure bright but needy students in Kibera are able to receive the education they deserve through our Sponsorship Program.
As much as sponsorship is an opportunity, sponsored students know that they have a responsibility to work hard in school and make the best use of the resources available to them. Norman Waweru is one of the lucky children under Uweza's sponsorship program. He is a standard five pupil at Olympic Primary School and has been sponsored by Uweza since he started Class 1 in 2009.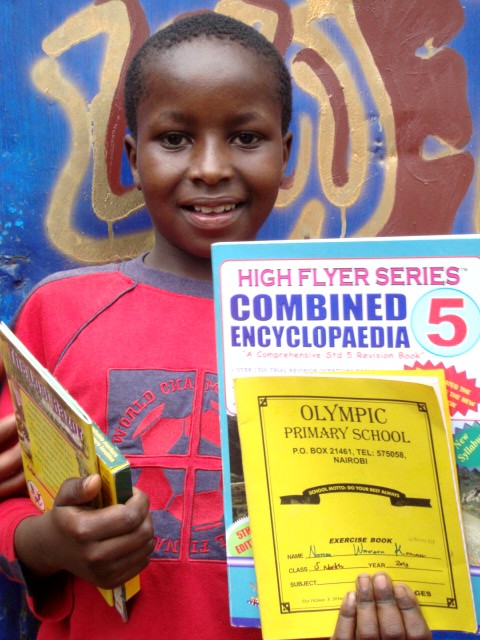 He has demonstrated outstanding academic performance over the years. He was also recently recognized with a trophy as a top performing student at his school's prize giving ceremony, a colourful event that was presided over by the Nairobi governor Dr. Evans Kidero.
Uweza Foundation, being a place for promoting and nuturing talents, awards sponsored students for doing well on exams with prizes of their choice. At the end of second term, Norman got 450 marks out of the possible 500 and was position two out of eighty-two children. His requested prizes included a mattress and a blanket.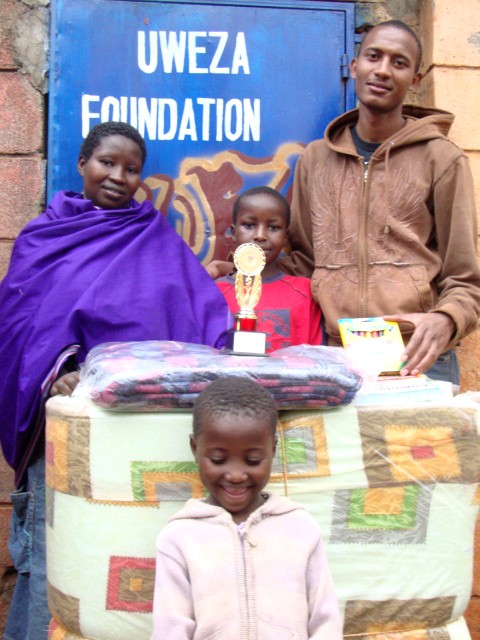 Norman with his mom, younger sister, and Uweza Sponsorship Coordinator Mathew
He vowed to work even harder as he intends to become an engineer by profession and also be able to lift the living standards of his family. We are confident that he will make it to one of Kenya's top national high schools and look forward to standing alongside him as he continues to succeed.