by Mercy Alomba
It is

5 am

in the morning but one might think that it is almost

noon

. This is because of the noises all over Kibera as residents walk around in search for a very important commodity, which in the past two weeks has become very scarce.
It all began with the announcement by Nairobi Water and Sewerage Company that most parts of Nairobi would go without water for four days following a burst of a main water pipeline supplying water to the city. by the time the company made the announcement, it was already late. The news came three days after residents of Kibera going without water.
What is not clear up to now is how the repairs have been done. "We expected the company to honor it's promise and supply us with water by Thursday May 30 but today is

Monday

and we still have no hopes of getting any water flowing from our usual taps!" laments one resident who instructs me not to reveal her identity for security purposes.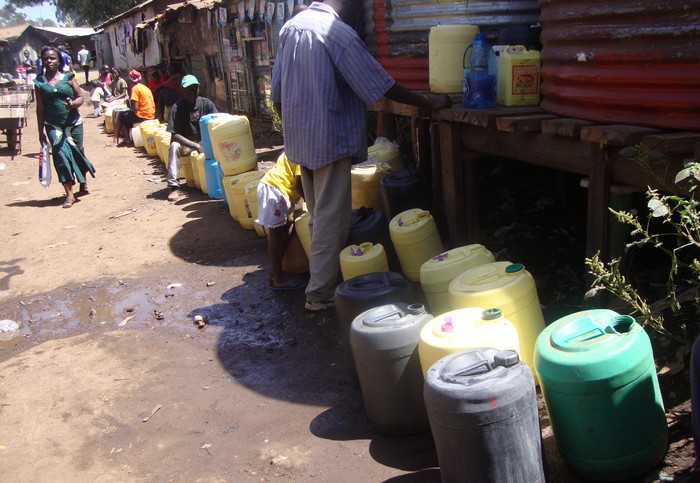 Kibera residents line up to buy water
Despite the complaints of residents about lack of water, another group of Kenyans is very happy and wishes the shortage persists so they can reap big. Those who sell water on carts are having a good catch. This is because under normal circumstances they sell a 20 litre water can for ten shillings ($0.12 USD) but they are now selling it at as much as thirty shillings ($0.36 USD). They confirmed to me that the water is clean and fit for human consumption, though some of their customers on the other hand complain that the water is muddy and are questioning the source. But no one is willing to solve the riddle.
Despite the shortage, residents are still hopeful that they will be remembered and get water. For those villages with water, residents are not spared either as they have to part with at least ten shillings ($0.12 USD) for a twenty-litre jerrycan of water. They too have to wake up very early in the morning to queue not forgeting that they have to report at their places of work in time.
The Journalism Club members from Uweza too confirmed that they are not left out in the search for water. In most cases, they help their parents by fetching water after school. They stay out up to as late as

9 pm to make sure they find water for their families.